Essentials of Medical Microbiology – Sastry Apurba S. is written in a concise, bulleted format so that it can be easily read during the MBBS exam. At the end of this article, you can download Sastry Microbiology PDF.
It has at least 30% more content, but pages are at least 100-200 numbers less than other competitor books. Language is kept simple and lucid language to ease the understanding. The content is Harrison derived but made simplified into the Indian language.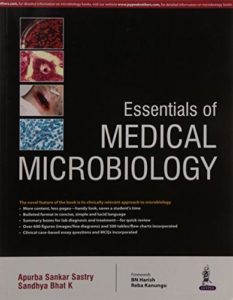 Features of Essentials of Microbiology Apurba Sankar Sastry
This book would change the general feeling of the students regarding immunology as being a difficult section into immunology as an interesting and enjoyable topic.
Virology section has been given a new look with the updated matter and recent concepts.
Mycology content is enhanced with >75 images.
This book would definitely full fill the long-time demand of the UG students of not having a proper coverage of mycology in the UG textbooks.
Summary boxes are added for quick review such as i) Treatment guidelines Summary boxes, ii) Laboratory diagnosis Summary boxes, iii) Highlight box for the important area. More than >600 images are added (More than two times than any other existing books). >200 Schematic diagrams are drawn in a user-friendly manner. >400 More real images are added, keeping in the view of image-based MCQs in PG entrances. More than 300 table are included for better understanding.
Advanced and newer PG entrance oriented topics covered– H1N1, Ebola, Polio eradication, ESBL, VRSA, VRE, automation and molecular methods in microbiology etc. Clinical Case-based essay questions and MCQs are incorporated at end of each chapter, to reinforce the students to prepare for future exams
Sastry Microbiology PDF Free Download
You can download the Apurba Sankar Sastry PDF Book here…
We are soon adding the latest edition of Apurba Sankar Sastry Microbiology book PDF