Harsh Mohan Textbook of Pathology has been fully revised to provide the most up to date information on the latest developments in the field. Harsh Mohan Pathology PDF 7th Edition PDF is available to download.
Best book to read for UG exams and even for reference in entrance exams. I have seen many people recommending Robbins to be read during UG days, but I do not agree.
I think reading Harsh Mohan during UG days is more than enough. It gives every topic in details, diagrams are easy to understand and well drawn. Also, it has photos of actual pathological slides as well. If you are a UG MBBS student, do not look anywhere else and buy this book.
Divided into three sections – General Pathology, Haematology and Lymphoreticular Tissues, and Systemic Pathology – the new edition covers numerous diseases, their causes, mechanisms, pathophysiology, classification, morphology, and clinical aspects.
Each topic concludes with a summary of key points and features illustrative images, diagrams, and tables.
Most chapters include a clinical case related to the topic, presenting its history and findings, finishing with important questions which are answered in the Appendix section.
Overview of book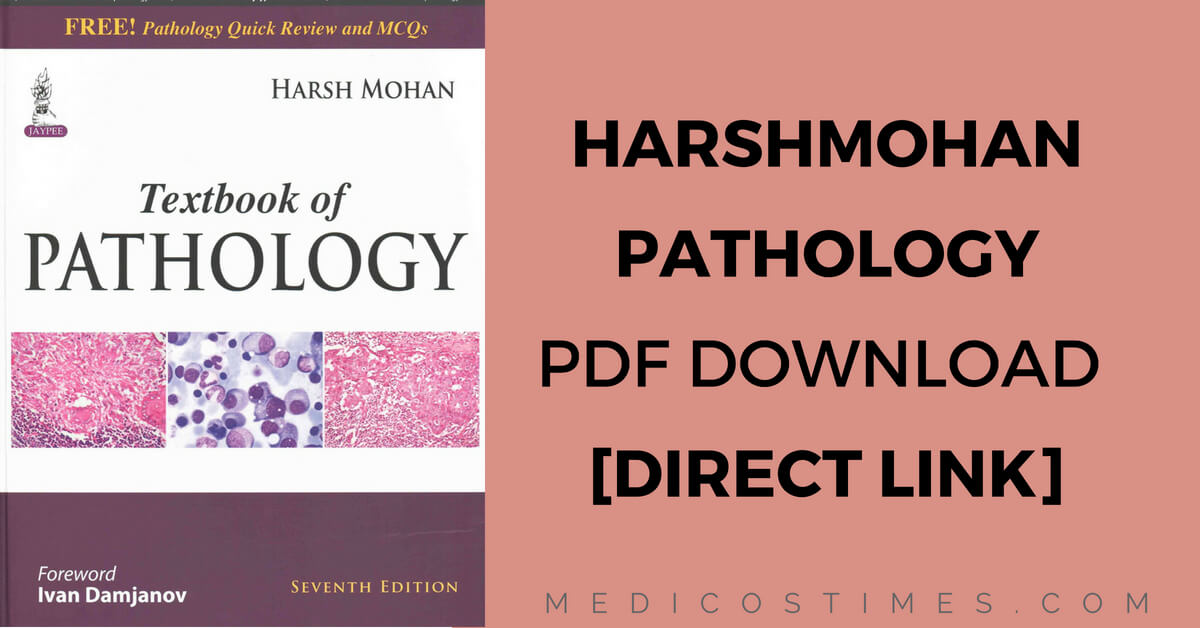 This book contains a foreword by Ivan Damjanov, M.D., Ph.D. – Book Review Editor of the journal "Modern Pathology," the official journal of the United States-Canadian Academy of Pathology and prestigious best-selling author.
This is the 7th edition of a book that has already established itself as the classic pathology textbook in India. This new edition has been updated and improved to meet the highest standards of quality and information now required by pathology courses around the world.
Editorially this new edition carries a particular emphasis on molecular pathology and genetics in the pathogenesis of various diseases, and the pathological discussions of each organ or system are preceded with a short description of its structure and function. The material is integrated with extensive page cross-references between chapters and the whole book has been thoroughly re-edited, with new images, illustrations and line drawings.
Table of content
Chapter 1: Introduction to Pathology
Chapter 2: Cell Injury, Cellular Adaptations and Cellular Ageing
Chapter 3: Immunopathology Including Amyloidosis
Chapter 4: Derangements of Homeostasis and Haemodynamics
Chapter 5: Inflammation and Healing
Chapter 6: Infectious and Parasitic Diseases
Chapter 7: Neoplasia
Chapter 8: Environmental and Nutritional Diseases
Chapter 9: Genetic and Paediatric Diseases Section II: Haematology and Lymphoreticular Tissues
Chapter 10: Introduction to Haematopoietic System and Disorders of Erythroid Series
Chapter 11: Disorders of Platelets, Bleeding Disorders and Basic Transfusion Medicine
Chapter 12: Disorders of Leucocytes and Lymphoreticular Tissues Section III: Systemic Pathology Chapter 13: The Blood Vessels and Lymphatics
Chapter 14: The Heart
Chapter 15: The Respiratory System
Chapter 16: The Eye, ENT and Neck
Chapter 17: The Oral Cavity and Salivary Glands
Chapter 18: The Gastrointestinal Tract
Chapter 19: The Liver, Biliary Tract and Exocrine Pancreas
Chapter 20: The Kidney and Lower Urinary Tract
Chapter 21: The Male Reproductive System and Prostate
Chapter 22: The Female Genital Tract
Chapter 23: The Breast
Chapter 24: The Skin
Chapter 25: The Endocrine System
Chapter 26: The Musculoskeletal System
Chapter 27: Soft Tissue Tumours
Chapter 28: The Nervous System
Download Harsh Mohan Textbook of Pathology, 7th Edition PDF
The book is accompanied by the Free student revision aid "Pathology – Quick Review and MCQs" and therefore, together as a package, "Textbook of Pathology, 7th Edition" will be a major contribution to the required reading of undergraduate medical students worldwide.