In this post, we have shared an overview and download link of Nagesh Kumar Rao Forensic Medicine and Toxicology PDF. Read the overview below and download using links given at the end of the post.
Forensic Medicine deals with the medico-legal sciences. It is a subject in Second Year of MBBS. Textbook of Forensic Medicine and Toxicology by Nagesh Kumaris one of the finest and recommended textbooks for Forensic Medicine.
Nagesh Kumar Rao Forensic Medicine PDF Book
The book has 5 sections and these are listed as below:
INTRODUCTION AND EVOLUTION
MEDICAL JURISPRUDENCE
FORENSIC PATHOLOGY
CLINICAL FORENSIC MEDICINE
FORENSIC TOXICOLOGY
Overview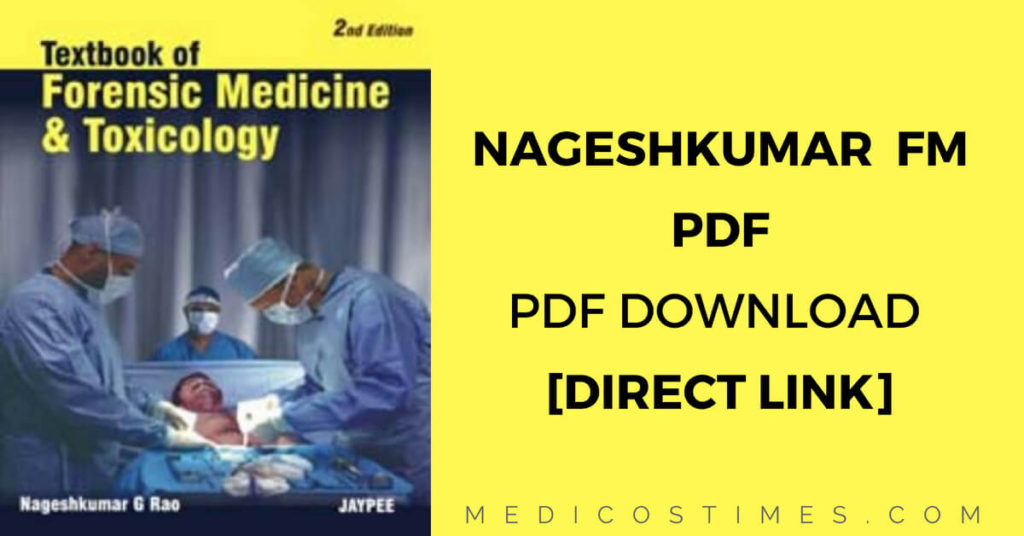 Nagesh Kumar is one of the recommended textbooks for Forensic medicine. It's actually a good book and you can opt for it if you are preparing for your second-year final exams. The book has over 691 pages with 40 chapters in total. The book is pretty much easy to understand and made better with pretty illustrations, images, and diagrams. The tables and differences add to the juice of the Nageshkumar book.
Suggestions to those studying Forensic Medicine in Second-year MBBS are as follows:
The subject is too much fun and interesting, you will really need no motivation to fall in love with Forensic medicine and toxicology.
Again, don't stick to multiple books. There are minor differences in books for forensic medicine though, but still, it's better to play on the safe side.
Make separate notes for differences, they are asked most in exams.
Clear your concepts over Firearms, students often miss their lectures and it's a horror to understand it easily.
Nagesh Kumar Rao PDF eBook Download
You can download or read online the Nagesh Kumar book by the link given below. If the link is not working, do let us know using the comments section, we will readily update it. If you are unable to locate the links, please refresh the page.
Nagesh Kumar Rao Forensic Medicine and Toxicology PDF 2nd Edition