In this post, we have shared an overview and download link of Deja Review USMLE Step 2 CK 2nd Edition PDF. Read the overview below and download using links given at the end of the post.
Deja Review: USMLE Step 2 CK boils down your coursework to just the critical concepts you need to know for exam success. This unbeatable guide features a quick-read, two-column "flashcard" Q&A format–specifically designed to help you remember a large amount of pertinent information in the least amount of time possible.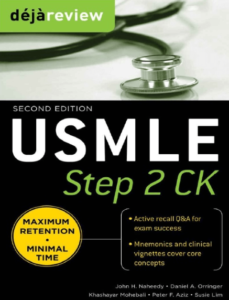 The format allows you to zero in on only the correct answers in order to promote memory retention and get the most out of your study time. Great for last-minute review of high-yield facts, Deja Review provides a straightforward way for you to assess your strengths and weaknesses for USMLE Step 2 CK success.
Features of Deja Review USMLE Step 2 CK 2nd edition
Here are important features of this Deja Revie USMLE Step 2 CK
Active recall questions that allow you to understand, not just memorize, the content
"Make a Diagnosis" clinical vignettes at the ends of chapters that prepare you for board questions
Mnemonics and key words to help you focus on core facts
A portable size for study on the go–fits in your white coat pocket
A bookmark included helping you work through easy-to-use flashcard presentation
Table of Contents
Below is the complete table of contents presented in Deja Review USMLE Step 2 CK PDF:
Chapter 1 INTERNAL MEDICINE
Cardiology
Pulmonary
Infectious Diseases
Gastroenterology
Renal/Genitourinary
Endocrine
Hematology/Oncology
Rheumatology/Musculoskeletal
Dermatology
Preventative Medicine, Ethics, and Biostatistics
Chapter 2 SURGERY
Trauma
General Surgery
Vascular Surgery
Orthopedics
Abdominal Pain
Make the Diagnosis
Chapter 3 NEUROLOGY
Headache
Seizures
Cerebral Vasculature
Intracranial Hemorrhage
Brain Tumors
CNS Infections
Cognitive Disorders
Movement Disorders
Amyotrophic Lateral Sclerosis, Multiple Sclerosis, and other Demyelinating Diseases
Vertigo
Neuromuscular Disease
Ophthalmology
Syncope
Peripheral Neuropathy
Localize the Lesion
Make the Diagnosis
CHAPTER 4 PSYCHIATRY
Mood Disorders
Suicide and Violence
Psychotic Disorders
Anxiety Disorders
Somatoform Disorders
Eating Disorders
Substance Abuse
Childhood Disorders
Personality Disorders
Miscellaneous Psychiatric Disorders
Psychopharmacology
Make the Diagnosis
Chapter 5 OBSTETRICS AND GYNECOLOGY
Obstetrics
Antepartum
Intrapartum
Postpartum
Gynecology
Gynecology Oncology
Reproductive Endocrinology
Urogynecology
Make the Diagnosis
Chapter 6 PEDIATRICS
Genetic Defects
Congenital Heart Disease
Development
Immunodeficiency Syndromes
Child Abuse
Neonatology
Infectious Disease
Nephrology
Gastroenterology
Endocrinology
Hematology
Pulmonology
Oncology
Rheumatology
Neurology
Miscellaneous
Make the Diagnosis
Chapter 7 EMERGENCY MEDICINE
Trauma
Toxicology
Environmental Emergencies
Make the Diagnosis
Download Deja Review USMLE Step 2 CK PDF 2nd Edition
You can free download Deja Review USMLE Step 2 CK 2nd Edition PDF by links are given below.
We always try to provide you the best download experience by using Google Drive links and other fast alternatives. In case the links are not working, use the comment section to inform us. We will update links as soon as possible.
Deja Review USMLE Step 2 CK PDF 2nd Edition