In this post, we have shared an overview and download link of Churchill's Pocketbook of Surgery PDF 5th Edition. Read the overview below and download using links given at the end of the post.
The Fifth Edition of this highly-praised and bestselling pocketbook continues to deliver a concise and didactic account of the essential features of all common surgical disorders.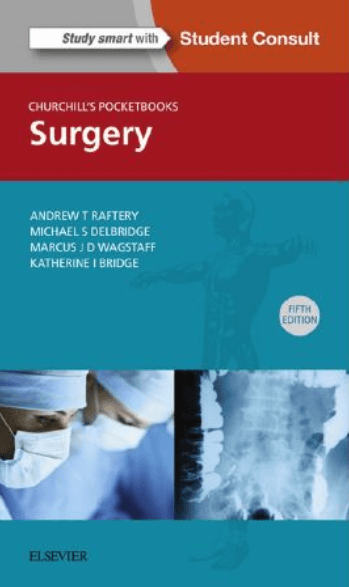 The book provides comprehensive coverage of general surgery but in addition, covers the basic needs of the medical student and those in the early years of postgraduate training as far as the surgical specialties are concerned.
Reviews of Churchill's Pocketbook of Surgery 5th Edition
"The authors' aim is to produce a concise, didactic account of the common surgical disorders that is both affordable and fits in the pocket. They have achieved this objective admirably. This is a little book that is worth knowing well."
Annals of the Royal College of Surgeons of England
"If you love surgery and want a recipe for success, or if you're just trying to survive your surgical placements, then do yourself a favor and pick this book. It's deliciously easy to read which makes it memorable and applicable."
Medical student, Australia
Key Features of the Book
Here are the key features of Churchill's Pocketbooks Surgery PDF 5th Edition.
Presented in the portable small format in two colors with line drawings and radiological images. The text is succinct and clearly structured with extensive use of headings to guide the reader.
Covers all the major surgical specialties.
Contains outlines of common operations such as appendicectomy and thyroidectomy.
Contains an introductory chapter on consent, medicolegal issues, statistics, and clinical audit.
Contains a checklist of emergency situations for quick reference.
New to this Edition
Features which are new to Churchill's Pocketbook of Surgery PDF 5th Edition.
The text has been extensively re-written by a team of senior specialist surgical registrars or newly appointed consultants.
Over 50 new illustrations of line drawings are included as well as updated radiological images.
New hints and tips sections have been added.
Table of Contents
The following content will be Covered in Churchill's Pocketbook of Surgery PDF 5th Edition.
Introduction to surgery
An introduction to surgical techniques and practical procedures
Investigative procedures
Shock and trauma
Preoperative and postoperative care
Infection and surgery
Management of malignant disease
Breast
Endocrine surgery
Abdominal wall and hernia
Acute abdomen
Alimentary tract
Peripheral vascular disease
Urology
Orthopedics
Neurosurgery
Plastic surgery and skin
Pediatric surgery
Organ and tissue transplantation
Gynecology and Obstetrics
Download Churchill's Pocketbook of Surgery PDF 5th Edition
You can download Churchill's Pocketbook of Surgery 5th Edition PDF by links are given below.
We always try to provide you the best download experience by using Google Drive links and other fast alternatives. In case the links are not working, use the comment section to inform us. We will update the links as soon as possible.