The Atlas of Oral and Maxillofacial Radiology PDF is an authoritative guide to radiology for the students of dentistry, professional dentists, and dental technicians. It offers an extensive collection of various dental conditions involving the jaws (for instance, the TMJ joint) and teeth.
It offers valuable and high-yield guidelines for the accurate interpretation of dental radiographs that are most commonly encountered in day-to-day practice. As for the audience, this book is suitable mainly for students of all level and professionals as well. Today, in this article, we are going to share with you Atlas of Oral and Maxillofacial Radiology PDF for free download. We hope that you find these dental X-rays useful in your studies.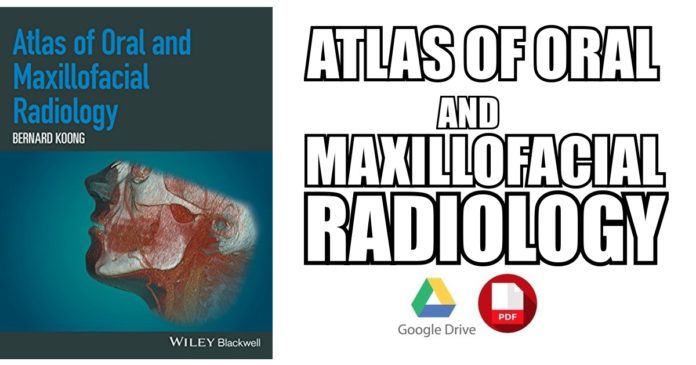 This book has been authored by Bernard Koong who is a renowned dentist. This book has been developed using real patient dental radiographs and to make learning interpretations easy, the authors have provided guidelines for each radiology slide (signs to look for) so that you can identify the underlying problem easily. You will be able to access the following types of dental radiographs in this book:
2D Intraoral radiography
Panoramic Radiograph
Cone Beam CT
Multidetector CT
MRI
Features of Atlas of Oral and Maxillofacial Radiology PDF
Here's a quick overview of the important features of Atlas of Oral and Maxillofacial Radiology 1st edition PDF:
700+ high-definition dental radiology illustrations to help you master the accurate interpretation/diagnosis.
The book also offers a lesion-based problem-solving chapter which makes accessing references very easy while you are working at the hospital.
The content of this book is highly comprehensive and user-friendly. High-yield points have been mentioned in tables so that you can make the most of this book.
The authors have put great focus on the dental conditions where diagnostic imaging is a key technique towards making the right diagnosis of the patient's condition.
Table of Contents
Below is the complete table of contents offered in the Atlas of Oral and Maxillofacial Radiology PDF:
Chapter 1: Problem Solving Diagrams
Chapter 2: Radiological Anatomy
Chapter 3: Anomalies Related to the Teeth
Chapter 4: Conditions Related to Loss of Tooth Structure
Chapter 5: Inflammatory Lesions of the Jaws
Chapter 6: Osteoradionecrosis and Osteonecrosis of the Jaw
Chapter 7: Hamartomatous/Hyperplastic Bony Opacities and Prominences Involving the Jaws
Chapter 8: Cysts and Cyst-like Lesions Involving the Jaws
Chapter 9: Fibro-osseous Lesions of the Jaws
Chapter 10: Benign Tumours Involving the Jaws
Chapter 11: Malignant Tumours Involving the Jaws
Chapter 12: Vascular Anomalies of the Mid- and Lower Face
Chapter 13: Other Diseases Affecting the Jaws
Chapter 14: Other Morphological Anomalies Involving the Jaws
Chapter 15: Other Systemic Disorders that may Involve the Jaws
Chapter 16: Common Opacities in the Orofacial Soft Tissues
Chapter 17: Trauma and Fractures
Chapter 18: Temporomandibular Joints
Chapter 19: Nasal Cavity, Paranasal Sinuses, and Upper Aerodigestive Tract Impressions
Chapter 20: The Skull Base
Chapter 21: The Cervical Spine
Atlas of Oral and Maxillofacial Radiology PDF Free Download
Please use the below-mentioned book to download the Atlas of Oral and Maxillofacial Radiology PDF e-book right now:
In response to the author's complaint, the PDF Download Link of this book has been removed.