In this post, we have shared an overview and download link of Sakshi Arora Hans Self Assessment & Review Gynecology 9th Edition PDF. Read the overview below and download using links given at the end of the post.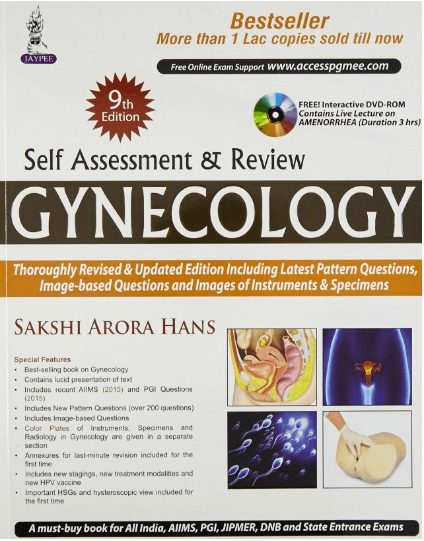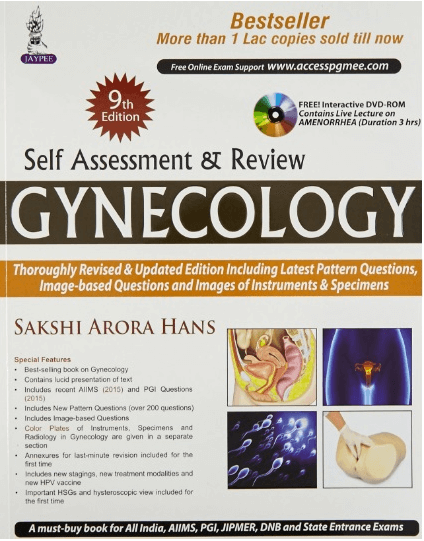 Thoroughly revised and updated edition including the latest exam pattern and image-based questions. Presents the text in a new layout. Includes information on AUB (Atypical Uterine Bleeding). A separate section on instruments, specimens, and radiology in gynaecology presented with full-color images. A must read for undergraduates, postgraduates, and interns revising for any exam on gynaecology.
Features of Sakshi Arora Hans Self Assessment & Review Gynecology
NEET continued in the year 2015, but yes, this time the anxiety of the students for NEET was less. Students looked more settled. The approach of NEET became a little clear. Image-based questions are still to being asked. Most of the questions are direct but require you to be well-versed with the theory. Reading important theory becomes absolutely essential, whether you do it from a textbook or from subjectwise help books, that's your choice. It now gives me immense pleasure to share with you the new edition of the Sakshi Arora Hans Gynecology. Many changes have been done in the book. Each chapter has been thoroughly revised and updated. All new guidelines have also been incorporated.
Table of Contents
Below is the complete table of contents presented in Self Assessment & Review Gynecology 9th Edition by Sakshi Arora Hans
1. Anatomy of the Female Genital Tract.
2. Reproductive Physiology and Hormones in Females.
3. Menopause and HRT.
4. PCOD, Hirsutism, and Galactorrhea.
5. Congenital Malformations.
6. Sexuality and Intersexuality.
7. Infections of the Genital Tract.
8. Urogynecology.
9. Infertility.
10. Contraception.
11. Uterine Fibroid.
12. Endometriosis and Dysmenorrhea.
13. Disorders of Menstruation.
14. A. Gynecological Oncology: Uterine Cancer.
Gynaecological Oncology: CIN Cancer Cervix.
Gynecological Oncology: Ovarian Tumors.
Gynecological Oncology: Miscellaneous Tumors.
15. Gynaecological Diagnosis and Operative Surgery.
16. Miscellaneous Question Bank.
Download Sakshi Arora Hans Self Assessment & Review Gynecology 9th Edition PDF
You can free download Self Assessment & Review Gynecology 9th Edition PDF by links given below.
We always try to provide you the best download experience by using Google Drive links and other fast alternatives. In case the links are not working, use the comment section to inform us. We will update links as soon as possible.