Ganong's Physiology has been the leading and most comprehensive text on medical physiology for over four decades now. It has been helping medical students and healthcare professionals in understanding the intricate matters of the human physiology since its early inception.
It is popular among the medical student for its easy-to-understanding writing style and presentation of high-yield physiology information throughout the book. Today, in this article, we are going to share with you Ganong's Review of Medical Physiology PDF for free download. We hope that our readers will find this book useful in their academics and clinical practice!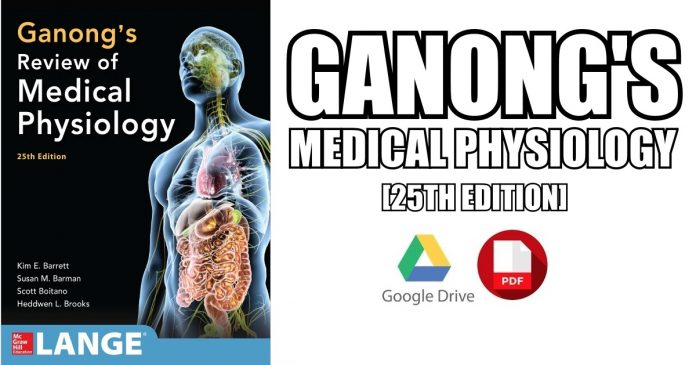 Ganong's Review of Medical Physiology 25th Edition offers a fully up-to-date text which reflects all the latest research and developments made in the field of human physiology. It is a must-have book for all medical students who want to ace this subject or if they are preparing for a major board exam.
Features of Ganong's Physiology PDF
Here's a quick overview of the important features of Ganong's Review of Medical Physiology 25th Edition PDF:
Over 600 high-definition and full-color illustrations which bring life to the intricate concepts of medical physiology.
Each chapter contains board-style practice questions to help you test and reinforce the learned knowledge.
The 25th edition of Ganong's Physiology offers an increased number of flowcharts (depicting various physiological processes) and clinical cases so that the students develop a thorough clinical understanding right from the beginning.
This book has been authored by subject experts and field leaders which means you get a chance to profit from them directly.
Table of Contents
Below is the complete table of content presented in Ganong's Review of Medical Physiology 25th Edition PDF:
SECTION I: Cellular & Molecular Basis for Medical Physiology
SECTION II: Central & Peripheral Neurophysiology
SECTION III: Endocrine & Reproductive Physiology
SECTION IV: Gastrointestinal Physiology
SECTION V: Cardiovascular Physiology
SECTION VI: Respiratory Physiology
SECTION VII: Renal Physiology
Ganong's Review of Medical Physiology 25th Edition PDF Free Download
Please use the download link mentioned below to access Ganong's Physiology PDF now:
In response to the author's complaint, the PDF Download Link of this book has been removed.