PL Dhingra ENT 6th Edition
The free book has over 490 pages and is the 6th edition of the series. If you want to download 7th or 8th edition of PL Dhingra ENT, you can always check us out later. About the book, there are 10 sections which deal with:
Section 1: Diseases of Ear
Section 2: Diseases of Nose and Paranasal sinuses
Section 3: Diseases of Oral Cavity and Salivary Glands
Section 4: Diseases of Pharynx
Section 5: Diseases of Larynx and Trachea
Section 6: Diseases of Thyroid and it's disorders
Section 7: Diseases of Oesophagus
Section 8: Recent Advances
Section 9: Clinical methods in ENT and Neck Masses
Section 10: Operative Surgery
Apart from the 10 sections, the book also features beautiful appendices, including the Instrument appendix that shows images and texts of Instruments used in ENT. These appendices are definitely the life-saviors during practicals at end of the semester.
About the Authors of Book:
PL Dhingra, MS, DLO, MNAMS, FIMSA
Shruti Dhingra, MS (MAMC), DNB, MNAMS
Assisted by:
Deeksha Dhingra, MD, PGDHA, MPH (University of Sydney)
Overview of the Book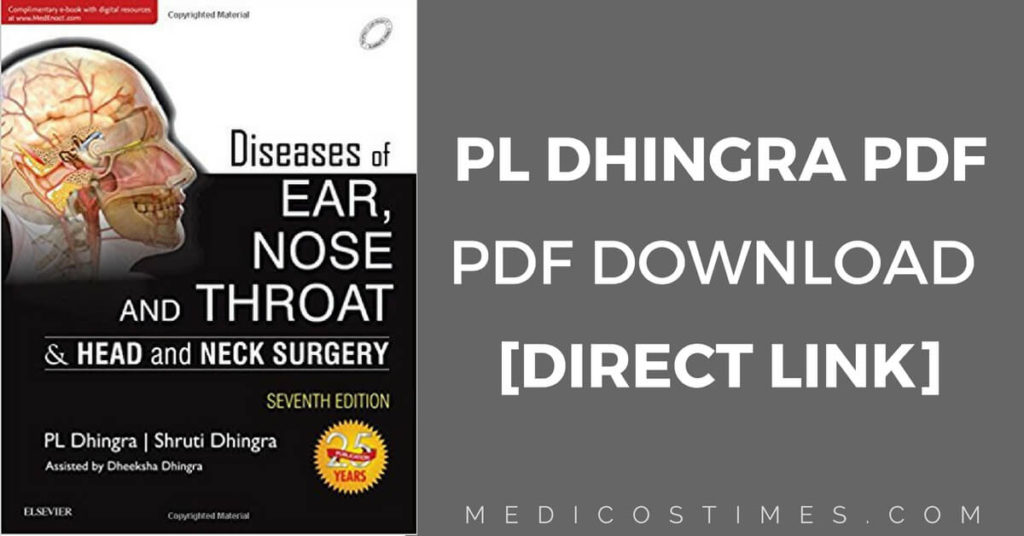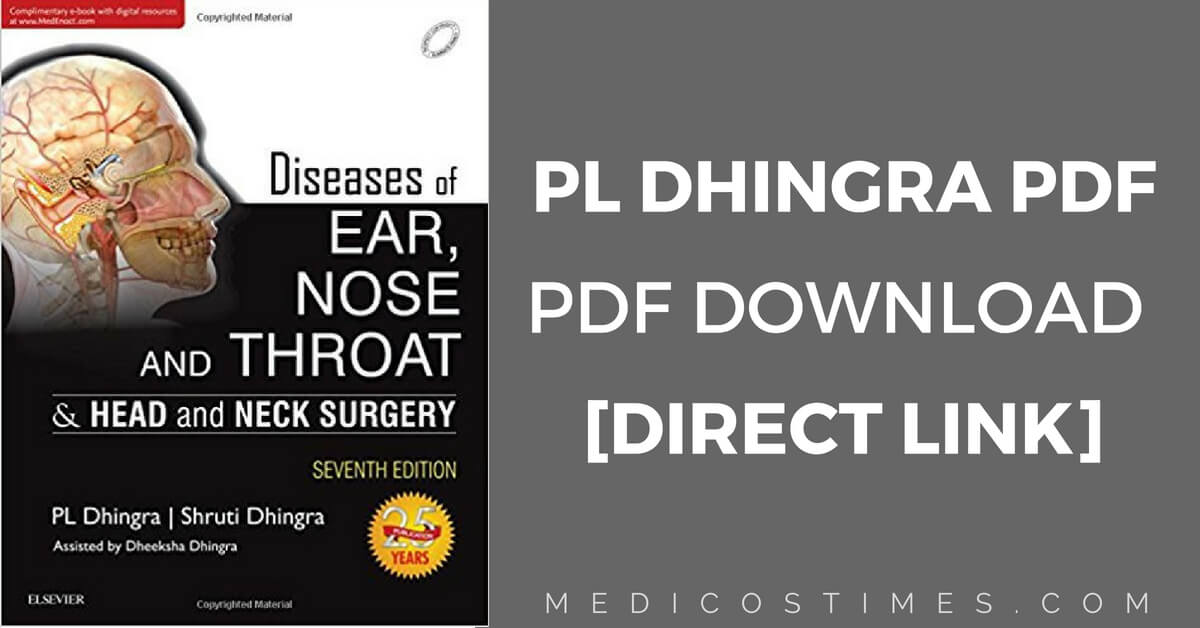 The PL Dhingra ENT book is still the standard for ENT department in medical colleges in India and is the most widely used book in Second Year MBBS for ENT subject. All the sections are necessary, however, the focus is always on Ear, Neck, and Throat, including Thyroid and Larynx.
One of the important topics is the classification of Cancer, it usually comes in exams. Attending the clinical wards with a book in hand is the finest way to learn ENT. Watching out surgeries is another way to make sure you never forget text. We also have some articles on this website that are made especially for MBBS students and are notes of ENT topics that are typical to understand. Some of them are:
Nasal Myiasis: Maggots in Nose
Atrophic Rhinitis
Deviated Nasal Septum (DNS)
Meniere's Diseases
Otosclerosis
Chronic Suppurative Otitis Media (CSOM)
Atticoantral CSOM
Tubotympanic CSOM
Suggestions for those who are looking forward to establishing a clinical understanding of ENT are as follows:
Read up everything, even if you are not in a mood to mug up. It will clear out some concepts and some things are bound to stay in your long-term memory.
Focus on the diseases more, you will usually find a lot of people with Otitis Media and Deviated Nasal Septum.
Make up a habit of co-relating everything and you will find the book is almost everything you already know.
If you need help, the following are some posts that can greatly help you understand clinical methods. They have been made short but explained to the level of a medical student.
Download
PL Dhingra ENT 6th Edition PDF
You can download the Dhingra ENT Book 6th Edition with links given below. If the link is not working, do let us know using the comments section, we will readily update it.
If you are unable to locate the links, please refresh the page.